February 2018 Housing Report: 4 Things to Know
Posted by Zachary Pitts on Friday, February 23, 2018 at 9:17 AM
By Zachary Pitts / February 23, 2018
Comment
We typically have to wait until March or even April to see the housing market begin to heat up. But with a record number of January home sales, it seems things are kicking into gear early this year. Here are key points from February's report: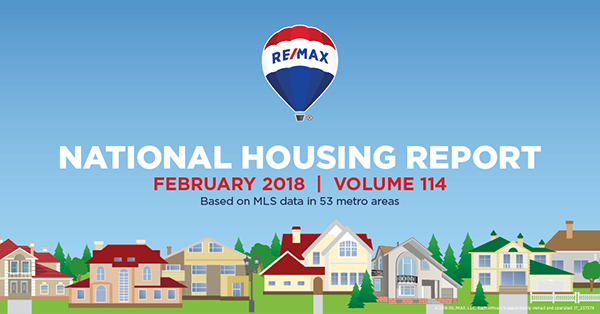 1. Homes are still selling fast
The average Days on Market for homes sold in January 2018 was 60, up three days from the average in December 2017, and down six days from the January 2017 average
2. Prices continue to rise
The median sales price of a home sold in January was $224,000. That's nearly 7 percent higher than the median sales price in January 2017.
3. Home for sale are still in short supply
We still need more homes for sale. The number of homes for sale in January 2018 was down 4.8% from December 2017, and down 14.8% from January 2017.
4. Slightly fewer transactions occurred
Of the 53 metro areas surveyed in January 2018, the overall average number of home sales decreased 27.4% compared to December 2017 and decreased 2.8% compared to January 2017. But we're already starting to see the selling season heat up and whether you're planning to buy or sell or both, now's the time to contact an agent.
Dig into the details of the ?February 2017 RE/MA?X National Housing Report??? in the infographic below.